Argyle Area Pet Care Services
Services Offered:
For the safety and liability of all involved, we do not job share with your friends, family members or neighbors.
Initial Consultation: Please allow us to meet you and your family face to face before beginning any service. We will go over your pet's specific needs and requirements, fill out a Vet release, get some details about each animal, and sign a contract. Please have a key/door opener available to send with us at this visit.
Rates: Free
In Home Boarding: We welcome the opportunity to care for your dogs in our home. Located on 6 fenced acres here in Argyle, your babies will have access to our entire home and property. No cages. No pens. No kennel. They live in our home with our family & receive 24-hour care. Robert and I work tirelessly to provide a fun, safe, stimulating, & CLEAN environment. We welcome potential clients to come out for a visit!! (Space is limited, and reservations are required.)
Rates: $55 a day for the 1st dog, and $5 a day for each additional dog in the family
Vacation Breakfast / Dinner Visits: These are approximately 20-30 minute visits in your home that allow for potty breaks & exercise, food and water service, medication administration, clean up any accidents, and lots of belly rubs. We will also bring in any mail or packages, water plants, turn on/off lights, adjust blinds, and more.
Rates: $20 a visit for 2 pets. Add $2 for each additional pet.
---
Vacation Potty Breaks / In and Out Service: Just need the very basic service of letting your pet out for a potty break or pre-bedtime trip outside? No problem! This visit is approximately 10 minutes, and although basic in nature, it's still loaded with lots of love, treats if allowed, and belly scratches.
Rates: $15 for up to 2 pets. Add $1 for each additional pet.
Doggie Day Care: Got a high energy pup or plan to be gone all day? We can help! Drop them off at Ashlee's Ark or schedule pick-up for day care. They will receive constant observation, tons of attention, excellent socialization, and exercise galore! We tailor the day to suit your pets age, breed, and physical needs. Space is limited, so reservations are required.
Rates: $30 for the first dog, and $5 for each additional dog in the family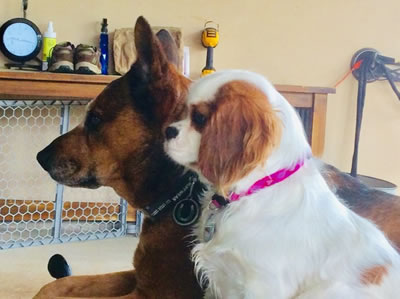 Puppy Care: New puppies are wiggly bundles of energy and curiosity, but long days at work or running errands can make them seem more like a chore than a blessing. We can help! Puppy care visits are approximately 20 minutes and include clean water, feeding, playtime, potty breaks, cleaning up any accidents, and washing any soiled bedding.
Rates: $20 a visit for 1 puppy. Add $3 for each additional pet.
Farm / Livestock Care Visits: If you've got large animals or a menagerie of pets, we've got you covered! Each visit is approximately 40 minutes and includes feeding all the animals, checking and filling all water, observing for injury, giving medications, turn out or put up, blanketing, and more.
Rates: $40 per visit
---
Pet Taxi Service: Leave the drop-off and pick-up to us! Stop rushing in the morning to get your pet to doggie daycare. Leave for vacation without stopping by the boarding kennel and return to find your babies waiting for you.
Rates: $5 each way for Daycare and Boarding customers within our service area. Rate varies for customers beyond our service area.
House / Mail Checks: No Pets, no problem! We will check your home, bring in your mail, water your indoor & outdoor plants change your lights and blinds, check for leaks or damage, and more while you're away. No more stopping and starting your mail. No more worrying about unforeseen weather events. Enjoy your travels knowing experienced homeowners are keeping an eye on things for you!
Rates: $15 per visit
---
Please note the following:
$15.00 Key Pickup / Return: All client keys are coded and stored in a secure locked location for future use. However, if you will require that we return the key, it must be done in person.
Due to liability reasons, we do not allow clients to hide their keys in the yard, under mats or anywhere outside for our use, nor are we allowed to leave your key anywhere on the property during our final visit without you present.
Lockout service is available should you misplace your keys for a fee of $15. Just give us a call and we'll come let you in!
$10 Holiday surcharge per day. This applies to New Year's Eve, New Year's Day, Easter, Memorial Day, 4th of July, Labor Day, Thanksgiving Day, Christmas Eve and Christmas Day.
$10 surcharge for early / late visits. This applies to visits required before 7 am or after 9 pm.
Contact us about other services. Need someone to meet the vet or farrier? Need someone to meet a service provider during the day?